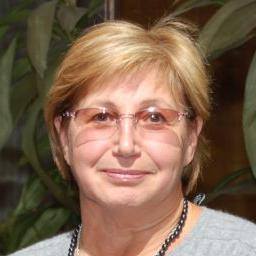 Tamara Goncharov founded Tomatex LLC, and currently she is the president of RITMSCENAR OKB Inc.
It all started back in 1997 when Tamara Goncharov founded Tomatex LLC, and currently she is the president of RITMSCENAR OKB Inc.(ritmscenarusa.com and scenartrainingcenter.com).
The companies are dedicated to promoting and distributing of a unique medical device – SCENAR, and we are a trusted professional partner of the manufacturer – Russian company
ZAO OKB RITM (www.scenar.com.ru).
Tamara got her Master's in Electrical Engineering at State Mining University in Dnepropetrovsk, Ukraine Worked for Electrical Energy Planning Company as a Project Manager. Supervised several projects related to all phases of high-voltage substations design, including problem solving, analysis, budget preparation, technical design, and direct field supervision.
At RITMSCENAR OKB Inc. Tamara Goncharov manages financial and production activity, distributors' contracts, administers customer service, creates and coordinates the sales marketing strategy, and provides after-sales support and training.
As a continuous effort of promoting SCENAR among American medical practitioners RITMSCENAR OKB Inc. and Tomatex arrange seminars, workshops and trainings.
Our SCENAR educational system is designed for all levels of participants. We build our courses around a specific health issue – back pain, SCENAR therapist in a rehab clinic, men's health, women's health and cosmetology, etc. So, at the beginning of each seminar we give our students a SCENAR basics overview to put them on the same page. And then we use our seminars as blocks to build a sturdy and architecturally beautiful SCENAR "mansion" i.e. SCENAR proficiency in our students. We are very simple and down to earth in our presentation and explanations.
By now RITMSKENAR OKB Inc. has several SCENAR seminars that have been successfully conducted in Texas, California, New York, Florida, Washington, Connecticut as well as Mexico.
They are as following:
Anti Aging, Aesthetic and Rejuvenation SCENAR Techniques.
Application of basic and advanced features of professional SCENAR Super Pro devices.
Treatment using the of new Pro SCENAR device functions. Analysis of health according
to D-5 .
Back Pain. SCENAR therapy of acute and chronic back pain. Enhancing the SCENAR
practitioners' self-confidence in dealing with various health issues and conditions.
Breakthrough in Self-Management of Chronic Pain – RITMSCENAR TM Home Device.
Enhance Men's Healing with Advanced SCENAR Technology.
Incorporating SCENAR Therapy In Beauty, Rejuvenation and Aesthetics Programs and
Procedures.
SCENAR therapy for acute and chronic pain.
SCENAR therapy for Women's Health and Rejuvenation Programs in Fat loss.
SCENAR Therapy Workshop On the Use Of Basic Pain Algorithms In a Rehab Clinic.The training is approved by the manufacturer of the genuine RITMSCENARTM devices – RITM
OKB ZAO.
We only conduct classroom trainings. And there are 3 reasons behind it:
our trainer will use the device on you to let you experience the SCENAR signal yourself (that's why our groups are so compact up to 10-12 people, where our trainer is able to give enough attention to each participant and every student has a chance of being treated at the training),
our trainer will help you "develop the SCENAR therapist hand" where you learn how to properly hold and move the device on the body (pressure, vector/direction, sliding, replacing, overlapping, circles, stickiness),
our trainer will show how to properly find most of the spots and areas of treatment on a real body based on the human anatomy which may differ from a picture in a book. Also there are some basics of SCENAR therapy that can't be taught through the screen – like signs of SCENAR therapy, search for Small Asymmetry Zones, Stickiness, Reciprocal zones, etc.
However, we share a lot of live treatments performed at our classroom training and post several videos with treatments of different areas and complaints. Throughout the years we have partnered with the best leading specialists in SCENAR therapy. We invite them to the United States to conduct the high-quality training. We have worked with:
Dr. Aleksandr Revenko, MD who is the device inventor, SCENAR techniques developer and the founder of the SCENAR Academy (Moscow, Russia), he is one of the leading educators who regularly conducts seminars on new methods of SENAR therapy.
Dr. Irina V Ershova, MD, an expert SCENAR practitioner with over 20 years of experience and a professional SCENAR trainer for over 10 years. Dr. Ershova devoted herself to SCENAR therapy about 20 years ago in Yekaterinburg (Russia), and since then she has helped hundreds of her patients. Currently she owns a SCENAR clinic in Moscow. is a Level III trainer and OKB ZAO certified instructor.
Dr.Iosif Semikatov, MD, one of the leading Russian SCENAR therapists and Trainers with about 30 years of medical experience as a family physician, cardiologist, and an ER doctor. Since 1995, Dr.Iosif has worked closely with Dr. Yuri Gorfinkel and Dr.Alexander Revenko on developing the classical Russian SCENAR protocols and Training program. He is currently managing the development of the standardized SCENAR training suggested by RITM OKB ZAO. In the USA Dr. Semikatov conducted the Personal Device Training, as well as the Advanced SCENAR seminar and the Train the Trainer Certification course.
At the end of our trainings you will get a Certificate of Completion issued by RITM OKB ZAO, signed by Yuri Starovojtov (President) and a trainer.So, for over 10 years Tomatex LLC, and now RITMSCENAR OKB are the leading providers of a quality in-class SCENAR trainings conducted by the best trainers, with the outstanding hand-outs and highly informative presentations.